Made in the USA exclusively by DummyEggs.com
PARROTLET, DIAMOND DOVE &
AMERICAN PARAKEET / BUDGIE BUDGERIGAR
Huevos Falsos de Perico / Faux Oiseaux
Vet Approved Way to Control Your Bird's Egg Laying Cycle Safely, Naturally, Quickly!
3/4" long x 5/8" wide (18.4 x 15 mm) White Solid Plastic Realistic Shape
With realistic shape, weight, color and feel, your bird will happily sit on these fake eggs and never know you have replaced her real eggs. Detailed instructions for success in using dummy eggs are included with each order. Dummy eggs are non-toxic plastic that is virtually indestructible, machine washable and reusable.
We recommend you use 7 eggs, one more than the average number of 6 eggs laid in a clutch by American Parakeets / Budgies. Put all 7 in a small flat bowl where ever your hen is acting broody or has already laid eggs. Set of 3 recommended for Diamond Dove. Your bird can now sit on her fake eggs until she loses interest in 2 - 3 weeks.
Parrotlet: Avg. Clutch 5 / Incubation 23 Days
American Budgie Parakeet: Avg. Clutch 5 / Incubation 18 Days
Diamond Dove / Zebra Dove: Avg. Clutch 2 / Incubation 14 Days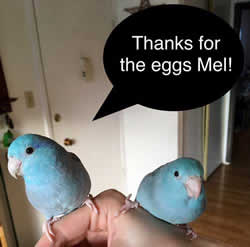 NESTING BOWL KIT
Quick n' Easy! Just open the the package and put the bowl of eggs in the cage.
Conveniently packaged, vacuum sealed and ready to use.
Includes:
7 Solid Plastic Dummy Eggs
1/2 lb. bag Nesting Material
Your Choice of Nest Bowl Style:
Flat Light Blue Melamine
Stainless Steel
International Orders, please choose Priority Shipping

$48
"Wanted to thank you for the eggs & nest bowl kit. This morning we put it into the birds' cage. By the time we left the room, both Saffron & Rainbow were happily sitting in the nest bowl. Saffron had become critically ill a year ago due to chronic egg laying over a period of several months & it took a long time for her to recover. Having these dummy eggs should help them both avoid that in the future. The feathered duo is so happy & it's great to know that we don't have to worry anymore about chronic egg-laying anymore. Thanks so much!" — Vicki