"GIVING BACK"
"Last week I ordered dummy eggs for our Indian Ringneck who has decided to be nesty and started laying eggs, much to our surprise. Today I got my order plus so much more. I want to thank you so much for all the extra eggs you sent along. As a non-profit, it can be hard to make our dollars stretch to do everything we need to do for the well-being of our birds. Having you send along such a large assortment of all size eggs is incredibly generous. I want you to know we really, really appreciate it. I will be sending a note to our corporate donation folks, so you can get the credit you deserve. Sincerely, thank you!" — Best Friends Animal Society, Parrot Garden
---
Hi Melanie, We currently have 42 African Blackfooted Penguins, at the Seneca Park Zoo. Since we don't want the colony to grow any larger, for now, we need to occasionally pull eggs and give then dummy eggs. This Penguin is named "Dassen." Your goose eggs do the trick. — Kevin, Zookeeper / Aquarist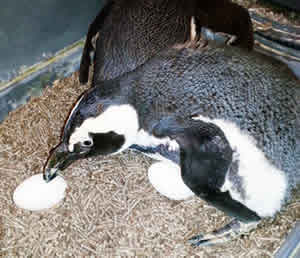 "Thank you for adding to our order as a donation. We are appreciative of what you do. We generally have so few egg laying issues, but the changes in weather and humidity in CO this summer have triggered some reproductive behaviors. We certainly don't want to add to the flock that we care for, and we generally shake the eggs, date them and replace them under the bird. But, in a couple of cases, this was not successful with the doves and a pigeon, and we don't want that to happen again. We've recently gotten in a large number of finches and budgies too, and all of them are the offspring of persons who started out with two. essentially multiplying the problem that they relinquish. Many thanks for helping us out."
Julie Weiss Murad CEO — President, The Gabriel Foundation, Denver, Colorado
---
"Thank you for your fast shipping and bonus eggs in my past 2 orders. The zoo appreciates it!" — Megan, Avian and Reptile Keeper, Blank Park Zoo, Des Moines, IA
---
"You rock! I am SO EXCITED!!! Our Blue and Gold Macaw Zoey is days away from laying her own, and has been asking all of our staff very sweetly to fertilize them for her (so far no takers). Our pigeons are producing like crazy too. WOW! How wonderful! You are so generous! I am beyond excited for this, our birdies really need 'em! We will make sure to send you lots of pictures." — Emma Johnson, Certified Aviculturist / Adoptions / Admissions Counselor
Lollypop Farm, The Humane Society of Greater Rochester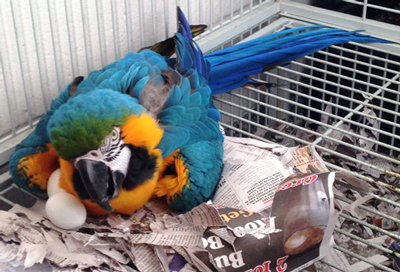 Zoey, Blue & Gold Macaw, Loves her dummy eggs!
---
"I really do love the quality of your product. We had some old parakeet dummy eggs from an unknown location that I used when I first started working here but then I bought the ones from dummyeggs.com and they were better made and more realistic." — Emily Callahan, Aviculturist III
Audubon Aquarium of the Americas, 1 Canal Street, New Orleans, LA 70130
---
I want you to know that my Eclectus, Rosebud, was laying two eggs every single month. Since I introduced the dummy eggs, she has only laid two of her own eggs in thirteen months. They are a miracle and may have saved her life. Only wish I had found you sooner! Thank you!!! Rosebud will be 24 yrs old this year and I have had her since she was a few months old. Thank you so much for this product. Well done!! — Sherry
---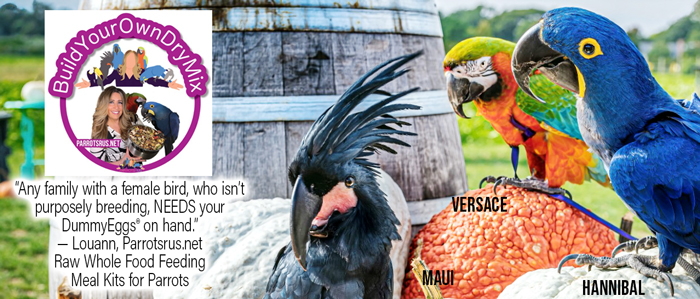 ---
Brilliant! I just received my order and I wish I had done this sooner!  These are magnificent!  Perfect replica, perfect weight, and my 20 year old umbrella Cockatoo cannot tell the difference!  I saw another brand, made of wood, but they didn't even look like real eggs. My bird only lays a couple every few years, and this time I hard boiled them to prevent breakage, but they got chipped anyway. So now I don't have to do that anymore. These are just perfect, and I'm so glad to have these, you just don't know. Can't thank you enough. — Thomasina
---
These worked! They were suggested by a vet for my 20 year old cockatoo. The eggs even came with instructions. I put them in, she ignored them, I took them out for awhile, put them back in and she accepted them the second time. No screaming , biting , hormone temperament! But mostly no calcium deficiency to worry about. Theses are such a blessing. Thank you. I will be posting in cockatoo forums and groups about these. — Pam
---
We have 15 Peafowl here at Belgard Castle with 5 females of breeding age this year so I need to start limiting the number of chicks - hence the order for so many dummy Goose eggs. Many thanks for the efficient service — Rachel, Dublin, Ireland
---
We have trapped more than 80 pelicans over the past three years, and the porcelain eggs have been a big help in protecting real eggs from getting damaged. They are just the right size and shape to fool a pelican! — Juliet Lamb, PhD , Clemson University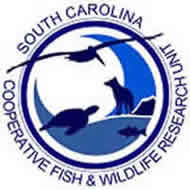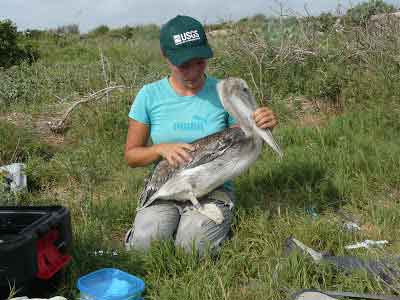 ---
I ordered dummy eggs for my parakeets. I followed the directions to a tee, putting a nesting bowl in the nesting box with all 7 eggs as soon as I saw she was laying. My 'keet girl even laid an extra and I removed it right away. BTW there's a boy in the cage so I'm pretty sure they would have hatched if I left the real ones in there. After she laid the one egg, she sat on the fake ones for about a month. Then one day, she lost interest, came out of the nesting box, and is happily again in the cage chittering away! Thanks to dummy eggs and their impeccable instructions and good product, a catastrophe of hatchlings was avoided! Thanks! — Shochet
---
We are amazed. We are so happy to help our cockatiel's egg laying stress. This was a God-send. She is calmer, less stressed. The eggs are the perfect size! We can't thank you enough. — Mike & Carol
---
Hi, Melanie - Just thought you'd like to know -- I've used your dummy eggs twice now (two separate breeding seasons) for my macaw. When she started displaying nesting behavior last November, I cleaned her cage and while she was sitting on a perch outside her cage watching me, I slipped the dummy eggs into her cage in about the same place where she had put them the first time. Almost immediately, she went into full-on nesting mode and settled down on the eggs. She never laid any of her own but guarded the dummy eggs like a hawk, and when I pulled the dummy eggs a few weeks later, she acted a little confused at first, but after a few hours, she got the idea and was back to normal. Next season when she starts the nesting behavior, I'll put the eggs in a little sooner than I did this time, hopefully to head off the nesting behavior entirely. Thanks for a great product -- and congratulations on 10 years! — Toni
---
"We highly recommend DummyEggs!
Melanie, Thank you so much for providing the great eggs and reference materials to
Broward Avian and Exotic Animal Hospital (Ft. Lauderdale, FL).
It is so helpful to have your egg size chart, clutch size, and incubation time by bird species when recommending dummy eggs to our patients.
— Susan Kelleher, DVM"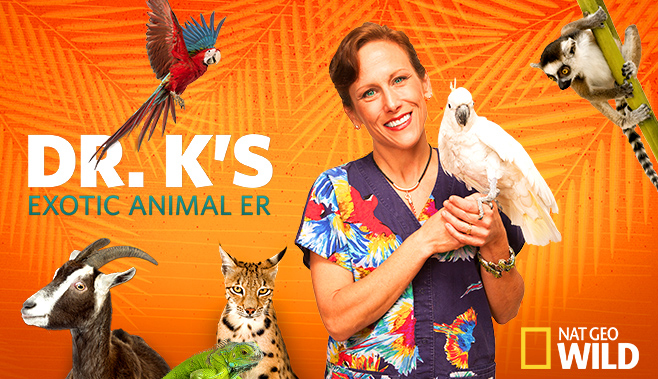 —Dr. Susan Kelleher, D.V.M.
---
Thank you so much. Wish me luck with my girl, Opie, an Opaline Peach-faced Lovebird, who is now 1 year 8 months. We thought she was a boy. She changed recently from a quiet, sleepy, talkative bird to this new personality. After moulting and getting her pretty new feathersYikes! My Veterinarian, Dr. Gerstenfeld recommended you. She is like Rambo right now. I hope she returns somewhat, to her former self in a few months. You give me hope. — with gratitude, Karen
---
I need the Cockatiel size. I had five for four years and had no problem, then last summer I had 27 eggs and they all hatched (the birds were supposed to be all male). I hand raised them all - it was exhausting. I found homes for many but I still have the original five plus ten babies, and I sure as heck don't want any more. They are a trip, but one experience was enough! Sandy. Hi, again! So far your eggs are doing the trick! However, I didn't think I had this many males!! I've got six pairs brooding, so I need more eggs! But at least I won't go through what I did last year. You're a life saver!
---
They work! Received eggs today. Placed one in the nest box of a parakeet hen that destroyed her last clutch.  After trying unsuccessfully for several hours to destroy the dummy egg, she seems to be sitting on it. Dummies work great if you DO want babies!  Thanks to the dummy eggs, and some foster incubation, the problem parents are now sitting on 5 eggs, the first of which hatched this morning! So happy. — Gary
---
My Parrotlet Chloe sat on the plastic bird eggs for 3 months, which was outstanding. I got them originally, because she had a breach egg. She laid on her fake eggs until about two weeks ago when she left them, but I left them in her nest box. Now she has returned to them miraculously. I took her to the vet today to see if she perhaps had another one of her own eggs stuck inside her, but she didn't. He and I decided that she must think she had already laid her eggs. I took your fake eggs with me to her avian vet, and he absolutely raved about them. He's been a vet for over 40 years and he said he's never seen anything like it. I heard him calling his assistant to come look at your website!
---
Thank you Mel, we are looking forward to them! My lovebird hen has been sitting on her own eggs for 2+ weeks now and I need to replace them with these before I feel too bad about those little egglets. I wasn't aware that these dummy eggs were a "birth-control" option for our little flock and I am thrilled to have found you. Thank you again. — Natalynne
---
Good morning! Wanted to thank you for expeditiing the eggs/nest. They came late yesterday & this morning were put into the birds' cage. By the time we left the room, both Saffron & Rainbow were happily sitting in the nest bowl. Love the rounded corner square shape instead of a round bowl & there is plenty of room for the two of them without having to feel crowded. Saffron had become critically ill a year ago due to chronic egg laying over a period of several months & it took a long time for her to recover. Having these dummy eggs should help them both avoid that in the future. Thank you for the treats which will be shared by the 4 of them. With thanks from the Brisbane family (humans & birds) :- )
---
Hi Melanie, Thought I'd let you know that I have got the eggs Immediately they have been worth their weight in gold! My 2yr old pair of Major Mitchel's layed; so I put 1 of your medium eggs in, exactly the same size by the way. Took the real egg out worth $4500, and put in my incubator. Next day checked the nest box and they had chewed the fake egg instead of destroying their real egg. So they have already payed for themselves. I have put 2 more eggs in so there are 3 fake eggs in the nestbox. Hopefully when the hen lays again the real egg will get lost among the fake eggs. — Ronald, Pacific Aviaries Ltd. NZ
---
My nine budgie-sized eggs arrived yesterday and just in time.  I'm an exhibition breeder just getting back into the fancy after a 20 year hiatus. I don't use the dummy eggs to limit hens laying – although I do know that that technique can work – but rather I use them as "insurance" in some of my nests.  In particular, some hens sit very "tight" and, if they only have one or two chicks and nothing else, this can lead to spraddled legs or suffocated chicks.  So, I use the dummy eggs as "jack stands" for the hen so the chicks don't get squashed. Right now, I have one foster pair with two chicks that hatched last evening.  There was only one old infertile egg left in the nest and I was concerned that it would eventually get tossed or broken.  I pulled it out and replaced with two dummy eggs.  The hen accepted the new eggs with no problems.  I'll remove them one-for-one as I put more eggs in the nest a day or two prior to the hatch dates.  By then, the older chicks will then provide the space the hatchlings will need. Thanks for the quick service and decent products. — Bob K
---
First off let me thank you so very much for all that you do. My little girl (cockatiel), Mooky, hasn't laid an egg in over a year because of your dummy eggs. After being told by our vet that all we could do was supplement her with calcium and minimize brooding potential we almost conceded to the fact that she would just continue to suffer as a chronic egg layer. Then I stumbled on you! I'm so grateful that we found you and all the information you provide. It really is very informative. Happy Holidays,  — Alexandra B
---
Your site is a live saver! Tiki just won't stop laying eggs and she is exhausted. — Wendy
---
I received the eggs yesterday, and the birds have taken them as their own. (the male is also egg sitting - and they divided the eggs between them) Thank You!
---
Hey Mel, I just wanted to drop a line and let you guys know, you have helped a lost foundling. She was found, extremely weak, at a parking garage in Rochester. We took her to our avian vet (we live with 5 rescue birds, all much larger than the little cockatiel we ordered on behalf of, and all of them are males), and a few weeks later, she's not only doing better, she started laying eggs! Enter panic mode for me. waaaay inexperienced with hen-cockatiel. I combed every website I could find for help. Yours was very informative, helpful, and the eggs came quickly! She also took to them immediately! Thank you for your help, and excellent advice.she's not going to be bred, but going to a home that will understand her and love her. Thank you again! — Christine
---
Thank you for remembering my TATA. She responded well to those eggs and sit on them like they were hers. We believe they helped her lay less as she was an old bird. We had her for 12 yrs and she was full grown when we got her. When we first got her and she looked at me from the cage I saw a look of love in her eye. I reached in and she climbed to my shoulder and stayed there for 12 yrs. Needless to say I loved her and she loved me. NICE NEW WEBSITE!!! CONGRATULATIONS!!! Gary
---
I've been using the eggs on and off for 2 years now. And my bonded pair of cockatiels do great with them! When I see an egg at the bottom of the cage, I take it out and put in 4 of the dummy eggs. That is how many my girl typically lays before settling in for the hatch. It keeps her from over producing eggs that tax her system. And neither TJ or Lily know the difference. Thanks again for your great eggs!
---
I'm excited to be able to give our bird club an option, a ray of hope and hopefully see the decline in the smaller birds dying from calcium depletion due to the ignorance of people yanking the eggs as soon as they are laid. It's a fact people don't seem to realize when dealing with unwanted eggs - fertile or not. Lin Alaska Bird Club
---
Hi Mel,Thank you so much for expediting the eggs, which I happily received today. I'm really new at all this, so you and your website have been very helpful. Before I, myself experienced the need for the fake eggs, a friend of mine was searching for them and I started to help her search and I found you and she ordered eggs from you. Now it was my turn. I would highly recommend you to anyone in need of this, your helpfulness and caring are actually felt. Thank you again. Best, Simone
---
I ordered the Lovebird ones last week - thank you for sending them so quickly. I just got a pair of rescued Diamond Doves last week. They must be happy here because we have eggs! I do animal rescue (cats, guinea pigs and now birds.). I definitely don't want any extra pets! Nor do I want to contribute to the over- population of homeless pets. I am so happy I found your site! Thank you for what you do! Cathy
---
Hi Mel, Wanted to let you know what an absolute success we are having with the senegal dummy eggs! First of all, they were the EXACT size! We simply went about our normal daily bottom of the cage cleaning routine and did a quick swap. Even under the most watchful eye of the new mama bird, the exchange happened and she swooped back down and nestled right on her little egg. We are only using one at this time and it has been fantastic. Since she is 26 and this is her first egg (mind you we thought we had a boy for the past 26 years!!). I can't thank you enough for this fantastic product! Not only do we love it, but our little girl Chickie is just adapting beautifully to it!! All the best, Soozie
---
Mel, I am constantly astounded that people have not found your website! When my 'tiel started shaking her little bum in the corner and wanting to lay eggs, I was freaking out until I found your fakies. It is just pure *insanity* to me that this is not vet recommended, instead they are putting them on hormone shots! Your website should be handed out like candy by vets! I am a moderator for a bird group and the second that someone says "Uhm, my bird laid an egg." I tell them "DUMMYEGGS!!!!!". Thank you thank you thank you! Samantha
---
Melanie Thank you so much for shipping the eggs so fast. I am going to recommend your company to a vet hospital in Florida that I know the owner. Shipping so quickly made all the difference. My bird is sitting on the dummy eggs. Thanks again. Gail
---
Hi Mel, My Dove Angel began heavy cooing yesterday and today she got back in her nest with her six fake eggs and didn't get back up. I am so happy. I hope she lays on them another two months. Thank God Almighty for you and your eggs! Sincerely, Carolyn
---
Thank you Melanie. My Pigeon has laid eggs in both the medium and small parrot size so I think a combo of will do the trick. Thank you again for all of your help. Customer service like you offer does not happen much in today's world. Nancy
---
Hi Melanie, Just to let you know that the NY Bird Club does not advocate breeding -- this is why we recommend your company - for birth control. Thanks for your great dummy eggs, Anna Manhattan Bird Club
---
THANK YOU. First of all, my husband now knows I'm NOT out of my mind, that this is indeed what I'm supposed to do, and secondly, I can stop searching through junk drawers and closets for little plastic egg decoys. You have saved my sanity! Kristy
---
Hello Melanie, The fake eggs actually arrived yesterday! I can report it looks like they are going to work out just fine. I just put them under one of my nesting 'tiels and she jumped back in her "nest" and is happily nesting away. I just wish I had these around years ago. Thanks! DC
---
My mini Macaw humps everything she can get her 'lil legs around and her behind up to. I've rearranged her cage, and blah blah blah, everything that is until I got Dummy Eggs. It stopped her in her tracks, no more eggs so far, and I couldn't be happier. She laid over 21 eggs in less then ten months and I got her to stop for almost a year. Then bam three eggs. I'm sooooo very thankful my baby will be ok and that's really thanks to DummyEggs.com! Bridgett
---
Hello! My eggs came today. I just wanted to thank you! My birds accepted them without a fuss. They really do have the same shape and weight as real eggs! Awesome eggs! Thanks again, Autumn
---
Hi Melanie, Thanks for offering the shipping choices. By the way, I have been searching the internet for information about dummy eggs and your website FAQ is the best put together I have seen (by far). After reading it, I didn't need to search any further! Thanks very much, Bruno
---
Thanks so much for the great product and advice. We were at the end of our rope and on the verge of rehoming our once sweet cockatiel. She began laying an egg or two once every two to three weeks since December. We were told she was a he so we were quite surprised. She seemed completely uninterested in them so we were taking them out. And now we know why she was a crazy egg laying mess. She now has her dummy eggs to count every evening. What a change. Thanks again, Tracey
---
Hi! I wanted to drop you a note that my dummy eggs worked! They match hers perfectly and by the time I received them, she had laid six. I put two in because she usually lays eight eggs and Voila! - she stopped laying eggs! I would not have believed if I hadn't seen it for myself, so thank you so much! These eggs are going to help me immensely! - Suzi
---