Introducing DummyEggs®.com
Are you a bird owner struggling with unwanted egg laying? Looking for a safe and natural way to control egg laying? Look no further than DummyEggs®.com! Our plastic bird eggs are the perfect solution to prevent egg laying in your pet bird. Made from durable and realistic materials, our dummy eggs mimic the look and feel of real PET BIRD eggs. Order now and receive detailed instructions to ensure your success in controlling breeding with DummyEggs®.
Prevent unwanted egg laying in pet birds
Reducing stress and anxiety in birds & owners
Avoiding health problems associated with egg laying
Support desired incubation and bird breeding
Why You Need DummyEggs®
As a pet bird owner, it's important to know what to do when your bird starts laying eggs. You have three options:
The first is to do nothing and allow the bird to lay her clutch and let nature take its course. If they hatch, this can mean you will have round-the-clock feedings and have to find homes for the surviving chicks. If the eggs are infertile, you can let the bird continue incubating them, but after some weeks, the real eggs spoil and probably break.
The second option is to remove the eggs, and your bird will continue to lay replacement eggs until she has a full clutch. This can lead to calcium depletion and egg binding, an urgent medical condition which requires immediate care by a veterinarian.
The third option is to replace your bird's real eggs with DummyEggs®. These eggs mimic the look, feel, and weight of real eggs and can trigger incubation WITHOUT HER LAYING a full clutch of her own eggs. By using DummyEggs®, you can limit the number of eggs your bird lays and prevent potential health complications.
DummyEggs® can also be used in the same manner when your bird first starts to display hormonal brooding behaviors that you will be sure to notice. These can include not wanting to be touched, wanting to be touched too much, and unusual aggression. Both males and females will show these signs, and using our plastic eggs can both calm and satisfy their need to reproduce.
So, which option is best for you and your bird? The choice is yours, but we highly recommend considering the use of DummyEggs® to limit the number of eggs your bird lays, minimize stress for you and your bird, and prevent potential health complications. The proper way to use DummyEggs® is to put in the same number of eggs as she would lay in a full clutch. This "fake clutch" tricks her to stop laying.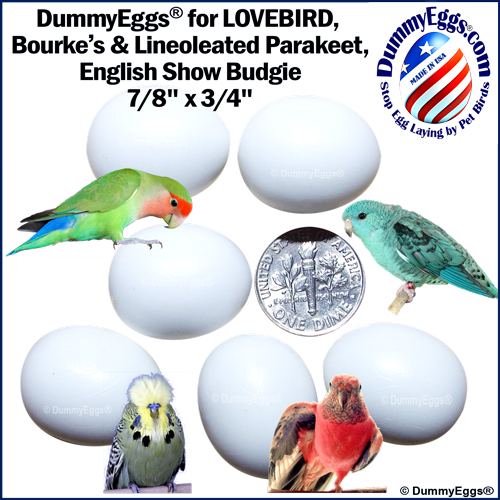 DummyEggs® for LOVEBIRD, LINEOLEATED & BOURKE'S, ENGLISH SHOW BUDGIES
Set of 6 $16.95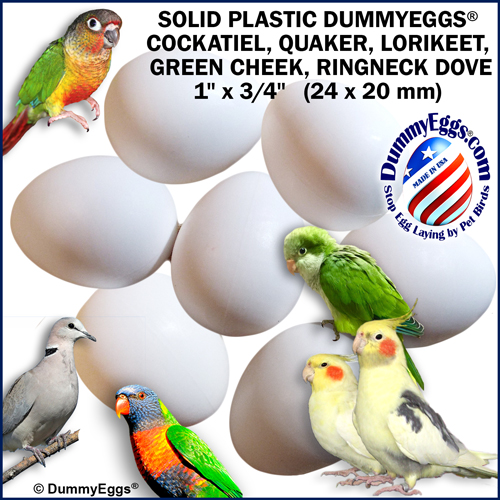 DummyEggs® for COCKATIEL, GREEN CHEEK, QUAKER PAROT, LORIKEET, RINGNECK DOVE
Set of 7 $18.95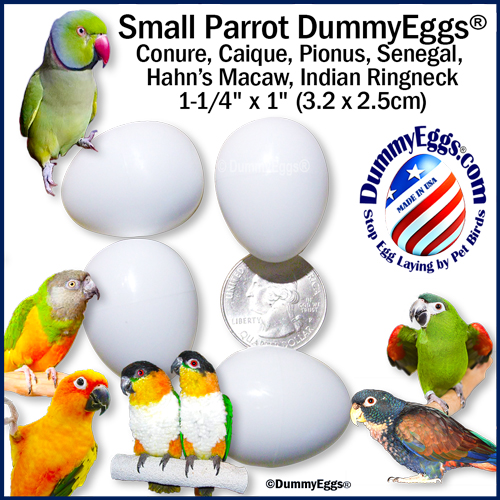 SMALL PARROT DummyEggs® for CONURE, INDIAN RINGNECK, CAIQUE, PIONUS, SENEGAL, HAHN'S MACAW
Set of 4 $18.95
MEDIUM PARROT DummyEggs® for AFRICAN GREY, ECLECTUS, AMAZON PARROT, SMALL COCKATOO & MACAW, PIGEON
Set of 2 $18.00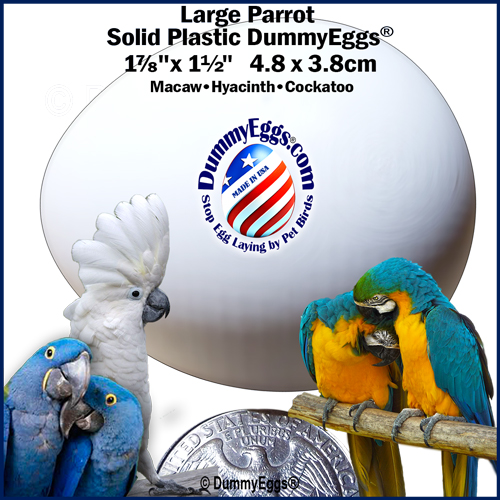 LARGE PARROT DummyEggs® for LARGE MACAW, HYACINTH, COCKATOO
Set of 2 $18.95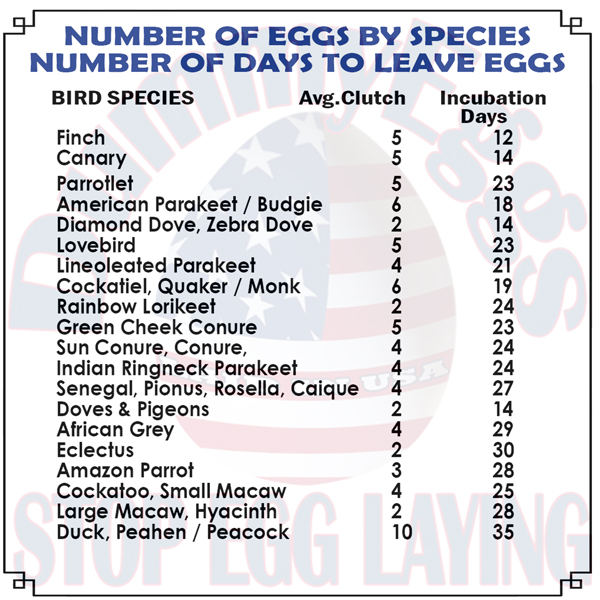 INCUBATION CHART with AVERAGE CLUTCH SIZE
Important information!
---
A DUMMY EGGS POEM
Are you a bird parent with a bird laying unwanted eggs? DummyEggs®.com offers a safe, fast and natural solution. Fake Eggs manufactured in the USA, Of premium plastic that's non-toxic, realistic and tough, DummyEggs® trick your bird, and that's enough. No more stress for your bird or you, We help mother nature decide what to do.
To signal that it's time to incubate, Place a full clutch of dummy eggs in her nest, And let your brooding hen do the rest. DummyEggs® are easy to use and safe, With realistic size, shape, and weight, Your bird won't know the difference, She'll think the clutch is complete and it's time to incubate.
Your broody bird will sit the eggs on the floor, Thinking she's incubating and stop laying more! She won't replace the eggs disposed, Her comfort is assured with the number of eggs she knows. Just go to DummyEggs®.com today, And say goodbye to egg-laying, hooray!
— by Melanie, DummyEggs®.com
---