FINCH
CANARY
BUDGIE PARAKEET, PARROTLET, DIADOVE
LOVEBIRD, LINNIE, BOURKE, ENG SHOW BUDGIE
COCKATIEL, GREEN CHEEK, QUAKER,
RINGNECKDOVE, LORIKEET
CONURE, CAIQUE, SENEGAL,
INDIAN RINGNECK, PIONUS, HAHN'S
AFRICAN GREY, ECLECTUS, AMAZON,
MINI MACAW, COCKATOO, PIGEON
LARGE MACAW & HYACINTH, COCKATOO
GOOSE, PELICAN & LG. WILD BIRDS
* * COMPLETE NEST BOWL KITS * *

CERAMIC GOOSE EGG
Canada Canadian Geese / Egyptian Geese / Shelducks, Peahen
Used Successfully for Pelicans / Flamingos / Swans* / Penguins
3-3/8" long x 2" wide (7.7 x 5 cm)
1 Egg for $5.25
Quantity option at checkout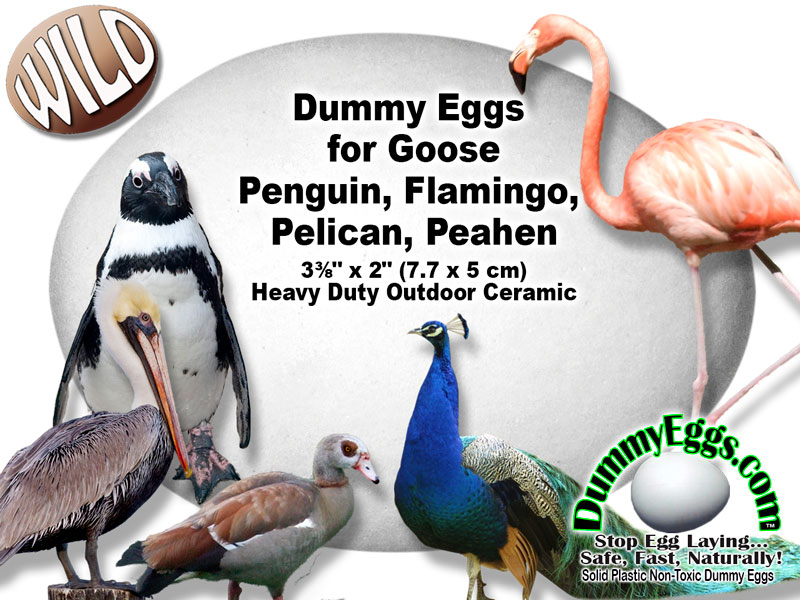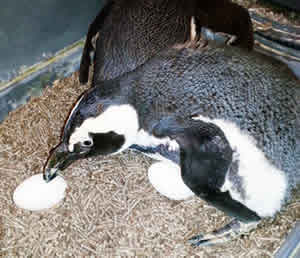 "Hi Melanie, We currently have 42 African Blackfooted Penguins, at the Seneca Park Zoo. Since we don't want the colony to grow any larger, for now, we need to occasionally pull eggs and give then dummy eggs. This Penguin is named Dassen. Your goose eggs do the trick." — Kevin, Zookeeper / Aquarist

"We have trapped more than 80 pelicans over the past three years, and the porcelain eggs have been a big help in protecting real eggs from getting damaged. They are just the right size and shape to fool a pelican!
Left alone, female birds will continually lay eggs; if the eggs are destroyed, they'll just lay more. Rather than constantly destroying eggs or ending up with lots of unwanted chicks, owners can replace the eggs with dummies immediately after they're layed. The female will then incubate the dummy eggs indefinitely rather than laying new ones. Luckily for me, goose eggs (77 x 50 mm) have approximately the same dimensions as pelican eggs (70 x 45 mm)."


— Juliet Lamb, PhD Candidate, Clemson University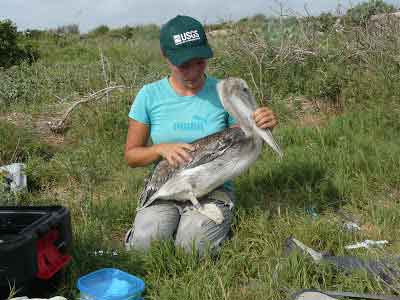 "Hi Melanie, I am scheduled to leave for fieldwork next Monday. I hope you can expedite the shipping so the 100 goose eggs get here before then."— Thanks, LeAnn
C. LeAnn White, MPH, PhD, Branch Chief
Wildlife Epidemiology and Emerging Diseases
United States Geological Survey / National Wildlife Health Center
The United States Fish & Wildlife Service and The Humane Society of America, recommend obtaining 4 Dummy Goose Eggs per nest to help control over-population. Average clutch size 5 - 12, Incubation 35 Days.
---
*Swan eggs are 1-1/2" larger. Goose are the largest outdoor dummy eggs available.

Our Cockatiel April
SHIPPING COMBINED AT CHECKOUT
"All Major Credit Cards Accepted"
THROUGH PAYPAL CHECKOUT
No PayPal Account Required


FAST SHIPPING! WE SHIP SAME DAY
FOR ORDERS IN BY 1 PM.
Please check your email after ordering,
we may have questions about your order.
DummyEggs®.com - Since 2006
Lakeland, Florida USA

MEMBER
WE AIM TO PLEASE!
Allow 5 days for 1st class shipping in USA.

Money Order accepted. Please email for instructions.
Thank You for visiting DummyEggs®.com

Melanie, Paulie & Kirk
All images and copy are protected by copyright.
DummyEggs® are trademarked names.
© DummyEggs.com 2021 All rights reserved.
---
DummyEggs
®

manufactures and sells bird supplies to aid in reducing
complications from the natural and ongoing reproductive cycle of female birds.
We are not medical professionals or veterinarians.
Please consult with your avian veterinarian for all health concerns.
---