COMPLETE NEST BOWL KITS
Quick n' Easy! Just open the package and put the bowl of eggs in the cage. Conveniently packaged, vacuum sealed and ready to use.


Include:
Solid Plastic Dummy Eggs
1/2 lb. bag Nesting Material
NEST BOWL STYLES TO SUIT YOUR BIRD:
STAINLESS STEEL
SQUARE ROUND RED MELAMINE
ROUND WHITE MELAMINE
SMALL FLAT LIGHT BLUE MELAMINE

(Melamine is completely safe unless heated to over 170° fahrenheit)
$49.95
Leave the nest bowl in place for the same number of days that would be a normal incubation for your species
(see "Egg Size Chart") and then remove. Clean eggs and replace sanitized shredded paper nesting material often.
Each Nest Bowl is designed to fit your bird species.
Choose from the following sizes:

5-1/2" / 14cm Diameter Bowls
BUDGIE PARAKEET NESTING BOWL KIT
Includes:
7 Solid Plastic Dummy Eggs
1/2 lb. bag Nesting Material
Stainless Steel or
Blue Melamine Nest Bowl

Stainless Steel Bowl 6-1/4" / 16cm Diameter
COCKATIEL, GREEN CHEEK, QUAKER PARROT
NESTING BOWL KITS

Includes:
7 Realistic Dummy Eggs
Your Choice of Nest Bowl Style
1/2 lb. bag Nesting Material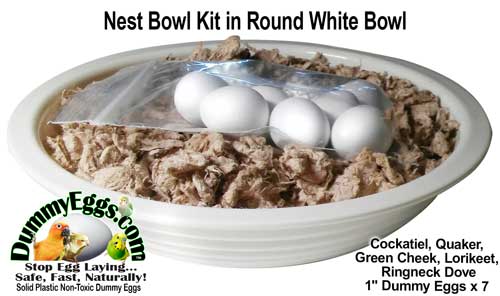 White Round Melamine Bowl 6" (15.25 cm) Diameter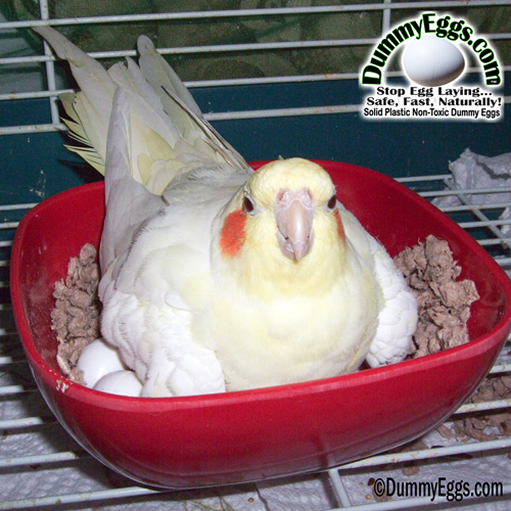 Red Square Round Melamine Bowl 6" (15.25cm) Diameter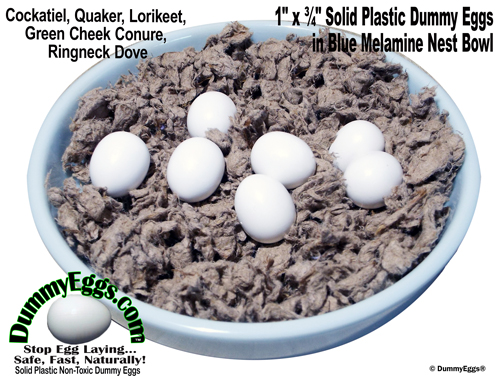 Flat Blue Melamine Bowl 5-1/2" (14cm) Diameter
We are dedicated to helping the homeless birds of the USA
by donating 3% of gross sales to avian shelters and rescues.
---

"All Major Credit Cards Accepted"
No PayPal Account Required


FAST SHIPPING! WE SHIP SAME DAY OR NEXT DAY
Please check your email after ordering, we may have questions about your order.
DummyEggs®.com - Since 2006
Lakeland, Florida USA
Thank You for visiting DummyEggs®.com

Melanie, Paulie & Kirk
All images and copy are protected by copyright.
DummyEggs® are trademarked names.
© DummyEggs.com 2022 All rights reserved.
---
DummyEggs
®

manufactures and sells bird supplies to aid in reducing
complications from the natural and ongoing reproductive cycle of female birds.
We are not medical professionals or veterinarians.
Please consult with your avian veterinarian for all health concerns.
---