HealthyHen™
Bird Food By The Cup
Even picky eaters love it!
Great to use for switching off an all seed diet.
ORDER HERE:
3 Cups = 1 pound
MADE IN THE USA
All small birds and parrots really go for the flavor and aroma of this complex mixture of all natural human grade ingredients including whole Bee Pollen and Acidophilus.
Boost the calcium and nutrients needed by brooding hens with flavor they will love. HealthyHen™ is designed to support your hen's intake of calcium, probiotics, vital nutrients and minerals to help prevent serious complications from egg production such as calcium deficiency and egg binding.
PROBIOTIC INGREDIENTS:
Dried Lactobacillus Acidophilus, dried Enterococcus Faecium, and dried Bifidobacterium.
FOOD INGREDIENTS:
NO PEANUTS. Whole Bee Pollen, Cashews, Almonds, Soybeans, Millet, Raw Sunflower Kernels, Canary Grass Seed, Canola Seed, Flax Seed, Black Sesame Seed & Natural Sesame Seed, Currants, Organic Blueberries, Sterile Hemp Seed, Niger Seed, Caraway Seed, Organic Whole Oats, Lettuce Seed, Wildflower Seed, Chamomile Flowers, Poppy Seed, Orange Peel, Soy Flour, Montmorillonite Clay, Natural Honey Flakes & Natural Molasses Flakes, Fennel Seed, Apples, Paprika, Corn & Peas, Parsley, Spirulina, Spinach, Lemon and Blackberry Flavoring, Carrots, Wheat Germ, Whole Egg Solids, Whey, Organic Papaya, Raspberry Seeds, Cranberry Seeds, Organic Cranberries, Pineapple, Star Anise Seed, Cantaloupe Seed, Organic Wheat, Green Cabbage.
Made from organic all natural human grade ingredients from around the world. Includes freeze-dried and dehydrated fruits and vegetables, Bee Pollen, hemp seed, Probiotics, Lactobacillus Acidophilus and so much more!
DIRECTIONS:
Slowly introduce new food into your birds diet.
Use HealthyHen as a main food source for small birds and parrots.
Use HealthyHen as an additive for medium and large parrots.

Cooking option for soft food: Add 3/4 cups hot (not boiling) water to 1 cups food, mix and let stand until moist & cool. Use immediately.
PLEASE STORE IN AIRTIGHT CONTAINER.
Keep in cool environment or refrigerate.
The probiotics are sensitive to oxygen and either have to be tightly sealed and/or refrigerated. All the other ingredients are really not as sensitive and can be kept fresh by being tightly sealed. I vacuum seal each bag of your order so they are fine unrefrigerated until opened. Once opened,  if you store them tightly sealed and in a cool environment, they don't actually need refrigeration although it is the best possible method of preservation.
No preservatives, synthetic vitamins, other additives, peanut free. Perfect for year round maintenance for male & female birds.
Multiple Orders Save on Shipping
"Picked up a sample of the Healthy Hen food to go along with the dummy eggs... and the Budgies love it! Pictured: approval rating of 3 of 4 butts in the air and one angry look for interrupting breakfast to take a picture!" — Beth
---

"Mina, my Umbrella Cockatoo, loves the HealthyHen food. I have to sprinkle it on her pellets or she won't eat them." — Kim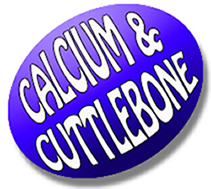 FRESH CUTTLEBONES &
CALCIUM MINERAL BLOCKS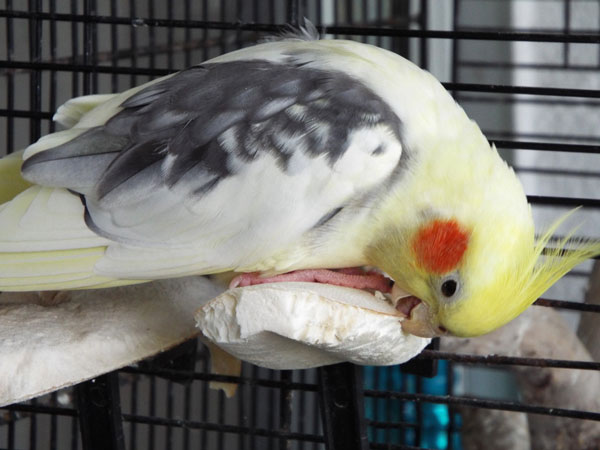 HealthyHen™ handpicks the freshest and plumpest cuttlebones available for your bird. Cuttlebones supply needed calcium for proper health as well as provide an important self grooming tool for beaks and nails. DummyEggs™.com offers extra-large through small sizes appropriate for your bird's species. Birds will enjoy them if they are fresh as they can get stale. Keep clean, fresh and replace often.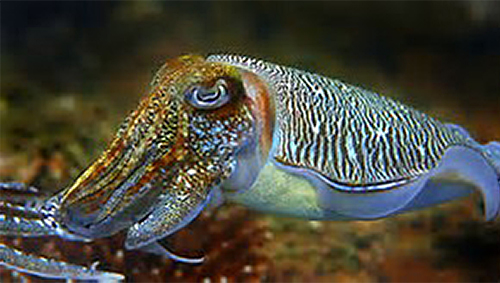 A cuttlebone is the dried shell of the Cuttlefish. They belong to the class Cephalopoda, which also includes squid, octopuses, and nautiluses. Cuttlefish have a unique internal shell, the cuttlebone. Despite their name, cuttlefish are not fish but molluscs. They are known to be extremely intelligent as they can figure out puzzles. These cuttlebones are a by-product of the fishing industry. Cuttlefish are harvested for human consumption, popular in Asia and the Mediterranean.
Calcium-Mineral Blocks
USA Sourced Ingredients:
Calcium, Oyster Shells, Flavoring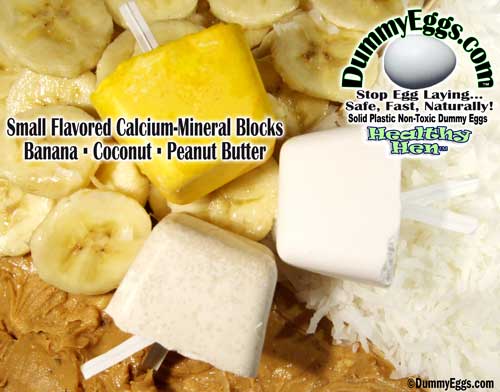 Calcium Mineral blocks are sourced from natural mineral deposits in the USA. They come in three different sizes to suit small birds, medium and large parrots. Choose from a variety of popular flavors including natural. Your bird will peck and chew while gaining important calcium to his or her diet as well as cleaning and maintaining healthy beak and nails.
---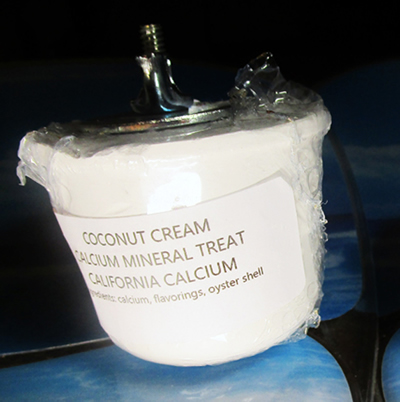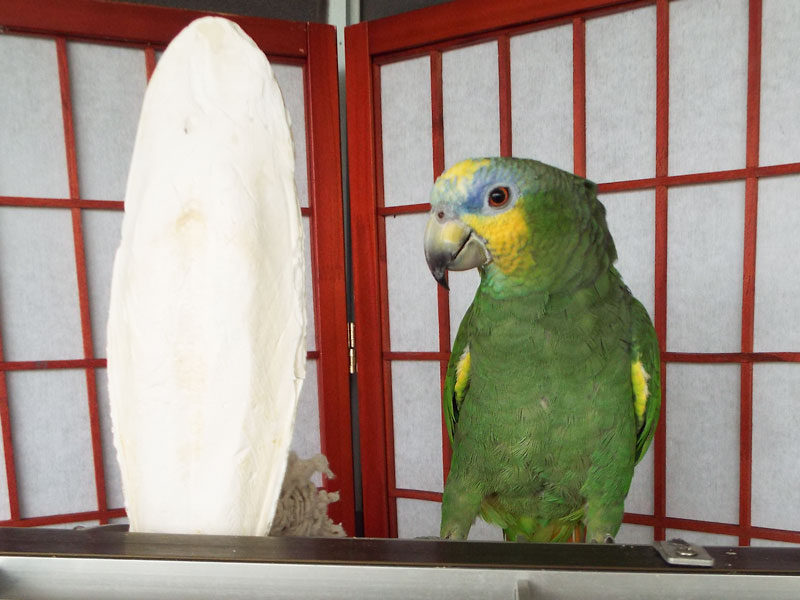 Package #8 for Large Parrots
YOUR CHOICE:
• 4 Extra Large (7"+) Cuttlebones
& Plastic Cuttlebone Clip
• 2 XL (7"+) Cuttlebones & 1 LG Block
• 3 Extra Large Calcium / Mineral Blocks
with wingnut (USA Sourced)

$21.95
"Hi Ms. Melanie! My Budgies, Woofer and Tweeter, devour your fresh Cuttlebones as soon as I put them in the cage. Thank you for adding them to your website so I can keep my birds happily chewing! The stores only seem to sell tiny, stale products. My hen, Tweeter, loves it the most! Their vet says Woofer and Tweeter are thriving with vibrant health! Your friend and loyal customer."— Joy

"Just wanted to say thank you from Danny and Bella, my beautiful canaries. They love the cuttlebones and are thriving on them. Thank you again."— Maya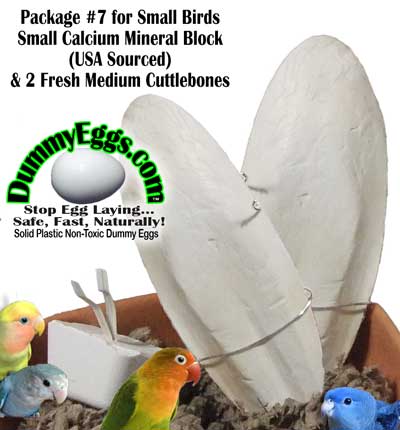 Package #7 for Small Birds
• Small Calcium / Mineral Block
USA sourced (choice of flavors)
• 2 Fresh Small 4+" Cuttlebones with Plastic Clip
$12.95
Package #5 Cuttlebones
4 Fresh Plump 5 inch Medium
• Plastic Cuttlebone Clip
$16.95