COCKATIEL EGGS, GREEN CHEEK EGGS,
LORIKEET EGGS, QUAKER EGGS,
RINGNECK DOVE EGGS
Huevos de Cacatúa / Faux Oiseaux
Exclusively designed & custom made in the USA by DummyEggs.com
1" long x 3/4" wide (25 x 19 mm) White Solid Non-Toxic Plastic
Designed to Match Real Eggs with a realistic shape. Vet Approved Way to Control Your Bird's Egg Laying Cycle... Safely, Naturally, Quickly SHIPPED SAME OR NEXT DAY! HOW TO USE DIRECTIONS included with purchase. Fool Your Bird in to Thinking She Has Laid All Her Eggs & She Will Stop Laying More
Stop Egg Laying! Our 1 x 3/4" Dummy Eggs for Cockatiel, Quaker, Green Cheek, Lorikeet, and Ringneck Doves are designed and manufactured exclusively by DummyEggs in the United States. They have a realistic shape, weight, color and feel. Your bird will happily sit on them and never know you have replaced her real eggs. Detailed instructions for success in using dummy eggs are included with each order. Dummy eggs are solid non-toxic plastic that is virtually indestructible, machine washable and reusable. We recommend you use 7 eggs, one more than the average number of 6 eggs laid in a clutch by Cockatiels, Quakers, and Green Cheek Conures. Put 7 in small flat bowl where ever your hen is acting broody or has already laid eggs. Lorikeet / Ringneck Doves 3. Your bird can now sit on her fake eggs until she loses interest in 2 - 3 weeks.
Cockatiel Avg. Clutch 6 / Incubation 18 - 21 days.
Quaker Avg. Clutch 6 / Incubation 18 - 21 days.
Green Cheek Avg. Clutch 5 / Incubation 23 days.
Ringneck Dove Avg. Clutch 2 / Incubation 14 days.
Complete Nest Bowl Kits
Just open the package and put the bowl of eggs in the cage.
Vacuum sealed & ready to use.
Includes:
7 Realistic Dummy Eggs in Your Choice of Nest Bowl filled with
premium sanitized non-toxic paper nesting material.
Plus Your Choice of Calcium Enrichment Toy or
1/2 lb. of nesting material.
$45.00
(International Orders, please choose Toy option & Priority Shipping)

Above Top: Bright Green Square Round Melamine Bowl.
Red, Yellow, Peach or Musterdstone Eco, 6" (15.25 cm) Diameter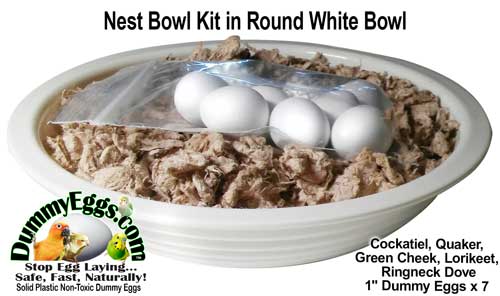 Flat Light Blue Melamine Bowl 5 1/2" Diameter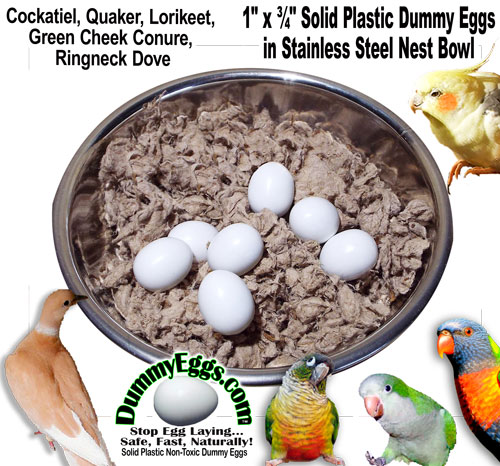 Stainless Steel Bowl 5-1/2" / 14cm Diameter
BONANZA PACKAGE
All the DummyEgg.com Products
Your Bird Needs in one box!
COCKATIEL EGGS, GREEN CHEEK EGGS,
LORIKEET EGGS, RINGNECK DOVE or QUAKER EGGS
Includes:
• Your Choice Bowl Style
• 9 Realistic 1" Dummy Eggs
• 4 Cups of HealthyHen™ Food
• 1 Small Mineral Block (USA sourced)
Your Choice
Natural, Peanut Butter, Coconut, Banana
• 2 Fresh Medium Cuttlebones 4+"
Plastic Cuttlebone Clip
• 1 lb. bag of Nesting Material
• Priority Mail Shipping Included in Bonanza
Free Shipping inside USA only
$89.95
Custom Packages Available.
To purchase any items separately visit my HealthyHen™ & Toys pages
SHIPPING OUTSIDE THE USA FOR BONANZA PACKAGE BY SPECIAL ARRANGEMENT ONLY
---
"My Cockatiel TATA of many years has been laying Cockatiel eggs for more than a year. We purchased your plastic eggs to see if they would slow her egg laying. At the time we received them she had 2 eggs of her own. I added the five dummy eggs and she immediately started sitting on all seven. After a day or so, she pushed her two natural eggs out and sat on the five dummies. I think we are going to have plastic babies! She loves them and in the attached picture she is hissing at me protecting them. Thus far she has quit laying which is a blessing because we were worried. We want to thank you for your eggs. I think we are going to be OK now." — Gary & Martha